SPF Home Deco Sdn.Bhd
Our company, SPF Home Deco Sdn Bhd (964187-D) was founded in 2015 by a group of visionary and highly experienced furniture enthusiasts who believe that furniture should complement architectural space and not compete with it. Collectively, our founder has over 12 years of experience in the business, and our mission is to inspire the main flagship brand ( KitchenZ ) to continuously offer top-notch quality products coupled with unparalleled service excellence.
We are a team of passionate home decor lovers who believe that a beautiful home need not be excessively expensive. KitchenZ with its design and source for home furnishing pieces that are stylish and chic enough to make your neighbors envious yet priced reasonably. We do not just sell tables, chairs and cabinets. Instead, KitchenZ is built upon a passion to help you create a home that inspires your dreams and individuality.
Furthermore, KitchenZ also specializes in designing contemporary and home furniture that ideally represents the urban, modern and cosmopolitan flavors so desired by – but has been beyond the reach of most people. Our designers, who are equally as house-proud as you, strive to create inspiring pieces that amplify the beauty of your home. We also source and handpick the trendiest home furnishing items, then tweak and resize to fit the needs of a modern homes to ensure perfection and sophistication.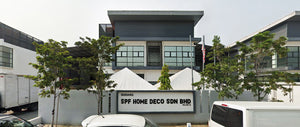 One of The Most Stylish Designer Furniture Brand in Malaysia 
SPF Home Deco Sdn Bhd is a brand that represents the very best in comfort, style and craftsmanship, delivering the perfect balance of form and function to people across the country. Our furniture store is one of the most favorites in Malaysia, offering a diverse and varied range of products to suit every space in your home or office that is a delight to view and feel. With more than a decade of experience in the industry, we know better than anyone what people need from their furniture. A good furniture store provides competitive prices or quality products. A great one like KitchenZ provides both.
Delivering quality at every stage of the process is at the heart of what we do. As manufacturers and online retailers, we have unparalleled control over the products we provide our customers. Using the most knowledgeable service staff, the most skilled craftspeople, the very finest materials and the most advanced manufacturing and quality assurance processes, we ensure the very best for every one of our customers.